NFCI Cooking Courses in Amritsar

Anyone with a genuine passion for cooking and incidentally living in the bustling city of Amritsar needs to enrol himself for the authentic cooking courses that are offered by NFCI Amritsar. The regular practice helps the students perfect their preparatory skills in chopping, cutting and such, before the actual process of cooking starts. Also, the prerequisite understanding and learning of the kitchen terminology is aptly emphasized upon. The faculty of this illustrious cooking institute belongs to the realm of well-versed chefs with a rich industrial experience behind them.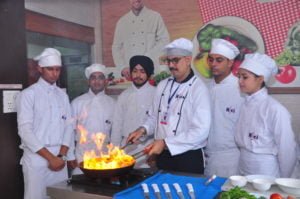 The theoretical aspects of culinary skills are equally stressed upon and give some very valuable information about every culinary technique being imparted. Students are taught to keep the right balance between the qualities of ingredients, the right cooking procedure and most of all – the creative plating of the dish. The experiential learning is made all the more beneficial by giving the students the liberty to learn and improvise to give the enhancement to both taste and presentation. The cuisines which are most favoured by the students here are Continental, Chinese and of course the authentic Indian. Other than the main course dishes, detailed classes for salads, starters and side dishes are also conducted. Desserts are an integral part of any wholesome meal, and these are taught maintaining the originality and flavours intact. Other than the practical approach in imparting the culinary lessons, small batch sizes ensure that the entire content of the cooking courses is transferred most efficiently. NFCI Amritsar is also popular for the comprehensive tandoori training it offers for the more career-oriented individuals who want to specialise in this technique, that is sought after throughout the world.
The innovative cooking courses in this amazing city of Punjab are a complete package of learning – learning from the very basics to high-end techniques applied to get the most satisfying output.