Food production implies getting ready food or we can say cookery in just words. In our organization, there are a few quantities of courses. Numerous courses go under food creation. The word food creation is utilized in lodgings. Food handling, by and large, incorporates the fundamental planning of food sources, the adjustment of a food item into another structure (as in making jam from the organic product), and conservation and bundling methods.
Various food-preparing advancements have even brought about new items, for example, concentrated organic product juices, freeze-dried espresso, and moment nourishments. Food sources and food supplements have additionally been handled from such until now undiscovered sources as oilseeds (predominantly protein-rich soybeans and cottonseeds); freak assortments of yields; leaves, grasses, and sea-going plants; and profoundly nutritious fish feast and thinks. Food creation is a significant office in any calling which is identified with neighborliness like Hotels, air terminals, rail lines, medical clinics, and so on.
Objectives

1. Protect food from defilement.
2. Increase the self-existence of food.
3. Convert crude food material in the alluring dish.
4. To protect the nutritive nature of food by keeping them from deterioration because of
microorganisms and other decay specialists
5. Enhance the quality
6. Ensure that food is all right for future utilization
7. Ensure accessibility of numerous food items consistently.
8. Ease of capacity, transportation, and dispersion frameworks.
Courses We Have Related To Food Production
TRAINEE CHEF: (NSDC)
(NSDC) this course goes under the National Skill Development Corporation. In this course, understudies will get familiar with a one-of-a-kind strategy of culinary craftsmanship. We are giving them pragmatic just as hypothesis class so they can take the appropriate information on the food which they will get ready. We will prepare them in various foods like Indian, Tandoor, Chinese, and Continental and bread shop so they can work in any office when they will join the Industry. Understudies will learn a diverse sort of cooking style which is generally utilized in 5-star inns. After completing the course our foundation will give those positions in 4 or 5-star lodgings like Radisson, Hyatt, Marriott, and Ramada, and so on as indicated by their advantage. Our establishment is QP/NOS guaranteed which is an extremely pleasing feeling for us. We have different quantities of dishes in this course. It will assist the understudy in withdrawing from the culinary world.
| | | |
| --- | --- | --- |
| Course Name | Eligibility | Duration |
| TRAINEE CHEF |  10th(Matriculation)  |  6 Months |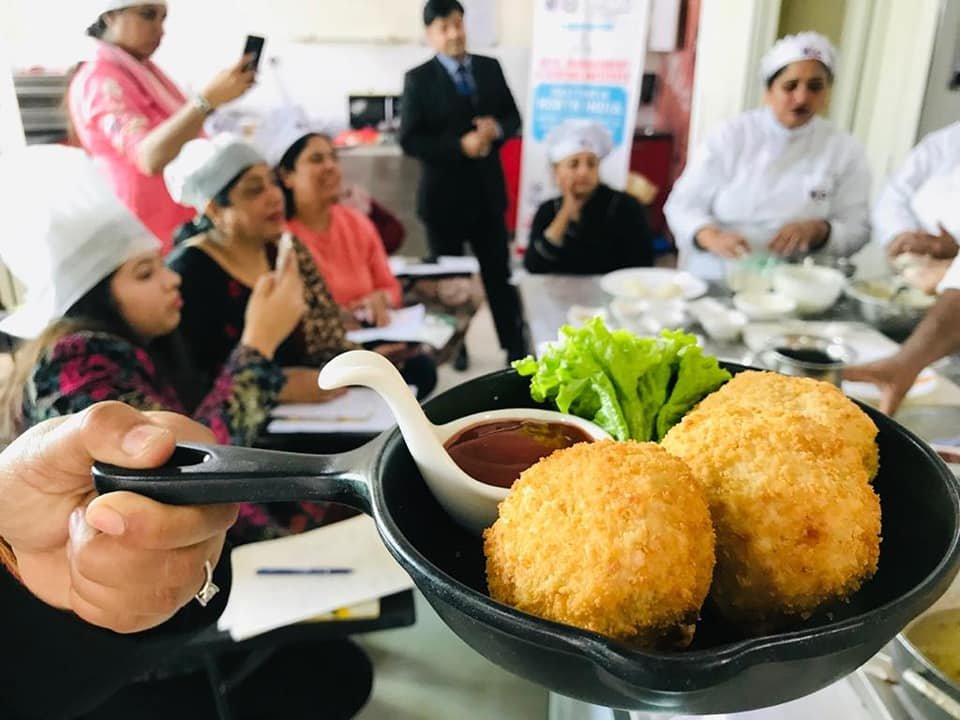 CATERING MANAGEMENT (NIOS)
Catering Management course (NIOS) National Institute of Open Schooling the word catering to the executives implies arranging and association of food. This course is exceptionally advantageous that understudies who will work in lodgings and open their own evolved way of life. in this course, they will learn how to manage the time, quantity, and quality of food. In our organization understudies will work in beautiful kitchens and utilize special utensils. They will get a legitimate blade set and uniform which will assist them with preparing themselves.
| | | |
| --- | --- | --- |
| Course Name | Eligibility | Duration |
| CATERING MANAGEMENT |  10th(Matriculation)  | 1 Year |
CERTIFICATE IN FOOD PRODUCTION AND CULINARY ARTS
We additionally give Certification in Food Production and Culinary Arts from eminent Institution of America AHLEI (American Hotel and Lodging Educational Institute). AHLEI was set up in the year 1953. It is connected with AH&LA (American Hotel and Lodging Associations). Its fundamental point is to give study material, course readings, Certifications to all the Hospitality establishments on the whole over the World from AHLEI. This accreditation is exceptionally useful for students who need to get comfortable in different Countries and seek after their Careers in Hotel Industry.
| | | |
| --- | --- | --- |
| Course Name | Eligibility | Duration |
| CATERING MANAGEMENT |  10th(Matriculation)  | 1 Year and Industrial Training 6 Months |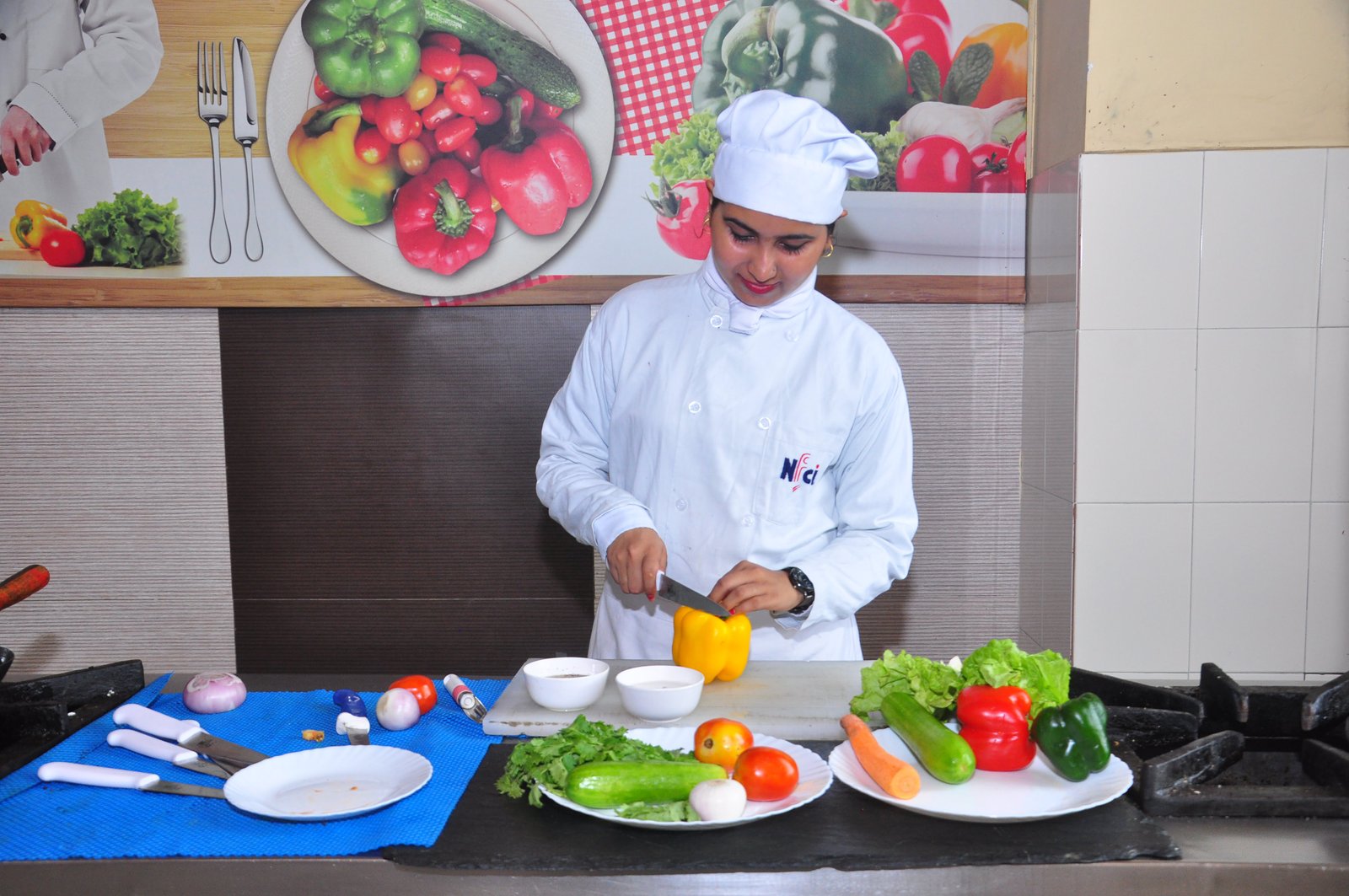 Diploma in Culinary Skills and Certificate in Cookery
These are the courses that are given NFCI (National Finishing Cookery Institute) affirmations. Our foundation is ISO (International Organization for Standardization) ensured which means quality and security. This is an extremely huge accomplishment for a foundation. The workspace makes this establishment not the same as others. Understudies will in henceforth their cookery abilities. Our Motive is to expertise the understudies and prepares them to be utilized in the Industry.
| | | |
| --- | --- | --- |
| Course Name | Eligibility | Duration |
| Diploma in Culinary Skills and Certificate in Cookery |  10th(Matriculation)  | 1 Year and Industrial Training 6 Months |
Want to know more about our F&B production courses
HOSPITALITY
Hospitality is a relationship between guest and host, or the act of being hospitable. It is also known as the act of generosity providing.
HOTEL
A 'lodging' or' hotel' is where an explorer can get food or sanctuary if he is in condition to pay for it and in a condition to be gotten. The lodging industry gives more got and ceaseless open positions. As more its time or Globalization individuals love to travel and think about different Cultures. In Industry gives food and sanctuary to the voyagers. It is likewise summoned as HOME FROM HOME.
Career Opportunities After F&B Production Course
The Food Production line is so flexible and inventive. This adjusts new methods and varieties with an open heart. One can
After completion, these course understudies have different freedom. Our establishment will make them a legitimate bundle so they can make due in any circumstance. After this course, they can open their own
1. Food Chain
2. Food Vlogger
3. Food Consultant
4. Faculty Member
5. Food Blogger
6. Hotelier
7. Cruise